Welcome to the website of David Lumsdaine's music.
Michael Hooper, 2012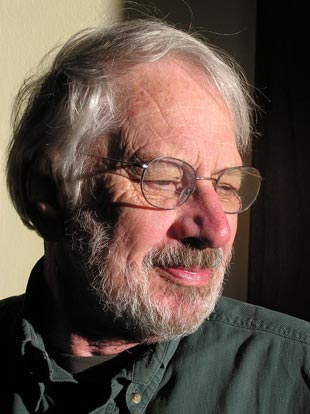 You will find many different compositions - solos for piano, voice, shakuhachi, and cello, chamber works, electro-acoustic music, soundscapes, large orchestral scores, and much else besides. The earliest composition is from 1964 (Annotations of Auschwitz), and although there is little notated music after 1996 (A Little Cantata in memoriam Tracey Chadwell), there are some significant compositions made using recording of the natural world.
The soundscapes point to the importance of specific places for some of this music, since the soundscapes are compositions of the sounds of a particular location. Big Meeting is also from a place and a time, with the recordings for this composition made in Durham in 1971, documenting that year's miners' gala.
Lumsdaine's compositions are not necessarily about a specific location, and engage with mythical ideas and myth-making, of which A Tree Telling of Orpheus and Kelly Ground are two clear examples. One of the best known works in this catalogue - Aria for Edward John Eyre - combines exploration and myth into an hour long composition for soprano, double bass, narrators, ensemble, tape and live electronics. For those new to this music, Aria for Edward John Eyre is an ideal place to begin. NMC's recording includes Jane Manning, Barry Guy and Gemini, and is conducted by Elgar Howarth. These performers are all long-time collaborators with the composer. Jane Manning also commissioned My Sister's Song, for soprano; Gemini commissioned Mandala 3 and A tree telling of Orpheus; Elgar Howarth conducted the BBC Symphony Orchestra in the Proms performance of Hagoromo.
Music by other composers is found throughout Lumsdaine's music, the clearest example occurring in Mandala 3. The work begins with a transcription of the final chorus of Bach's St Matthew Passion, which is also woven into the piano solo Ruhe sanfte, sanfte ruh', which Mandala 3 incorporates in its entirety. Episodes also comes from Bach, Caliban Impromptu begins with Schubert, What shall I sing uses well-known melodies, and several works (particularly the later ones) sound as though they might be referring to something familiar, even if they don't. The early works, too, make extensive use of ideas and sounds found in the music of other composers (Messiaen, Mozart, Mahler…), which are all vital to the music's workings, even if those references are difficult to recognise.
If the traditions of European music are significant, so too are those from Australia, and also those from Asia. My Sister's Song sets Tamil love poems, Hagoromo responds to the Noh play of the same name, Curlew in the Mist is for solo shakuhachi and comes with the composer's interest in Zen, and Kali Dances returns to some of the rhythmic ideas found in early works (Kelly Ground, for example) in a way that makes the his engagement with North Indian classical music much clearer.
Cambewarra, for solo piano, is one of Lumsdaine's few notated pieces that gives an aural glimpse of the natural world that is so important to much of this music. Where many of the notated scores use birdsong as a way of thinking about the relationships of performers (such as Flights, for two pianos), Cambewarra sounds like birdsong (it's also virtuosically put together, using many of the techniques developed in earlier works).
This music presents a vast palette of sounds and ideas, some of which return again and again: dance, melody, melodies combining into harmony (chorales), birdsong, continuity, discontinuity, myth, and resonance.